We as Viking fans will continue the "We Made The Team" by continuing to produce our vehicles in our colors and show our pride. And when you show your pride by driving around with these type vehicles, you cannot say we are not "Die-Hard" or "Fair Weather" fans. This is our place to show our support and give ideas to other fans that we have and get other ideas for our "Next Project".
Ted's Sack Attack & Dave's Purple People Eater II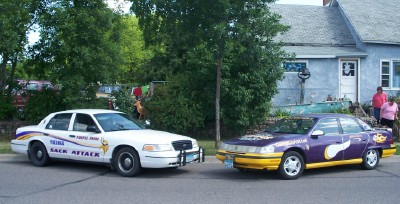 Crazy Vikings Chariot from the Viking Inn from Crosby MN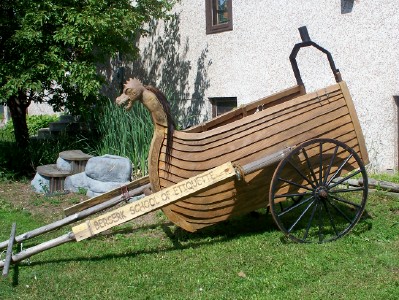 Thanks for stopping by the best site for Viking fans showing off their pride everyday! Not only do we show off our pride but we try to give ideas to other fans nation wide how to show their pride as well.
Some of these photos you may see on this site have been seen on other sites. I am not here making any money on this site nor selling any pictures, rather promoting those sites involved and saying thank you.
VikingVan.com, PurplePride.org, BattleWagon.net, domeplus.com/Minnesotavikings/fanphoto.htm, Vikingsmania.com,
WeAreVikingFans.com, Vikings.com, etc.
If I missed others its not on purpose, just lets us know we will add those. Thank You Very Much! Purple Viking(purplepowered)